InnCov® Stretch Ceilings:
A great way to create a new high-end European style interior
Ideal for customized design concepts
Mold and moisture resistant, airtight, made to last
Manufactured in the US for the best price
Request a FREE estimate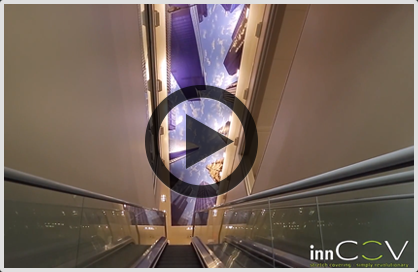 Featured Projects
Premium Ceiling Design Ideas Suggestions
Revolutionizing your ceiling
A ceiling is an area that covers the inside of the upper limit of a room.
Ceilings are categorized by their construction or appearance.
A dropped ceiling is one I which the finished surface is made anywhere from a few inches to a few feet below the structure above it. This is done for aesthetic purposes, such as creating an enviable height ceiling; or, for practical reasons, such as making space available for piping.Innovative Coverings is revolutionizing what a "ceiling" means by developing custom ceiling design ideas and creating unique home and residential ceiling and wall design solutions.
We offer innovation that our competitors do not.Are you ready to schedule a Free consultation? Please contact Innovative Coverings today at +1 224-805-7473. We provide the full spectrum of services your ceiling needs.
Benefits and uses of a stretch ceiling
A stretch ceiling creates a dramatic effect and is likely to be reserved for big events. You can work creatively on a stretch ceiling. Possible applications range from color to fabric type, with the ceiling as a projection screen and display video or photos. The fabric may be installed in many ways in order to give the room a 3D effect.
The fabrics are both lightweight and very durable, with a long life expectancy. They are energy efficient and environmentally friendly.Other specific types and styles of stretch fabric structures include:
a)

Standard coverings: used for classic ceilings and perfect for newly-built or renovation construction projects;

b)

Anti-bacterial: perfect for kitchens, schools, clinics, and hospitals;

c)

Translucent: used for lighting to create a warm ambience;

d)

Colored: adding color, design and texture to a room;

e)

Water repellent: perfect for kitchens, bathrooms and swimming pools;

f)

Acoustic coverings: soundproofs public places and large open spaces;

g)

Stainless: best for kitchens and playrooms.